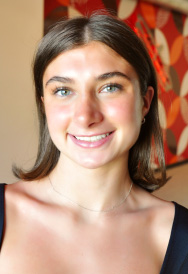 Sarah G.
Staff
Experience
I grew up with yoga in my life. My mother has been a yoga instructor since before I was born, and I even think there is a picture out there of her doing a handstand while pregnant with me. Yoga has always allowed me to feel like my most confident and strong self, while also serving as an outlet to relieve stress and maintain balance in my life.
Favorite Pose
Child's pose - my favorite way to start any practice and makes me feel grounded
Favorite Quote
"Be kind whenever possible. It is always possible."
– Dalai Lama
Why I Love Dragonfly
Coming to college as an out of state student, I was worried about finding a yoga studio that would be a good fit for me. The second I walked into Dragonfly I felt so welcomed by every staff member. The community at Dragonfly is filled with positive energy, acceptance and just all around awesome people.
Little Known Fact About Me
I am a graphic design major and love to make art in my free time!