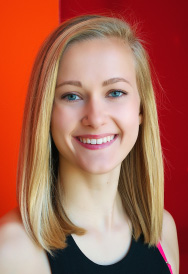 Sara M.
Instructor
certifications
BarreAmped Level 1
BarreAmped Level 2
BarreAmped Bootcamp

My Teaching Style
I have such an appreciation for the structure and precision of the BarreAmped method. This is why I want to emphasize proper form and alignment because this is the foundation for improvement and will ensure that you get the most out of your time in my class. You'll find that my sets tend to be longer so that each client has the chance to be challenged to their ability, but I also give reminders that resetting is always an option when form is being compromised. I love to use fun and upbeat music as motivation and to keep class enjoyable when all you're thinking about is resetting!
Experience
I have been a member of Dragonfly since September 2015. I had no prior yoga experience, but I wanted to switch up my boring gym routine for something more structured and motivating. I decided to give the intro month a try, and I quickly I fell in love with this studio. I started out with just attending flow classes, but I wanted to experience more. BarreAmped intimidated me at first because it was a new challenge for me, but after I started seeing results I got hooked! I received my BA Foundations certification in December 2016 and am so excited to teach alongside such an amazing group of people!
Favorite Pose
Knee dancing! It really gets your thighs to burn like crazy!
Favorite Quote
"Have some fire. Be unstoppable. Be a force of nature."
– Cristina Yang
Why I Love Dragonfly
The variety of classes that are offered guarantees that anyone can find their place at Dragonfly. Whether you want your butt kicked in Power Up, shake till your legs fall off in BarreAmped, or slow down and restore in Yin, there is something for everyone. Each class challenges me both physically and mentally, and I always leave with such a sense of accomplishment.
Little Known Fact About Me
Traveling is one of my absolute favorite things to do. If I had unlimited money and free time I would travel everywhere. I've been all over Europe and to Sri Lanka and next on my bucket list is Thailand! Also my belly button looks like a peace sign so I'd say that's pretty cool too.
Sara Moldenhauer's Class Schedule