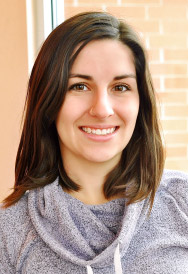 Rachel M.
Instructor
certifications
CYT 200 hour

My Teaching Style
I love teaching classes that give people the opportunity get into their bodies, either by holding poses for longer or having fun in challenging poses. There's aspects of my classes that feel like a workout and aspects that feel relaxing! I like to balance out both of those energies.
Experience
I began my yoga journey my senior year of college when I realized that running and lifting didn't actually make me feel good. I taught myself a lot of the poses and joined the DragonFly family over a year ago when I moved back the Madison area. After realizing how much I loved the energy of yoga classes, I decided to get a teacher certification in the summer of 2019.
Favorite Pose
I absolutely love savasana! There's nothing that feels better to me than getting into savasana at the end of a challenging or satisfying yoga class.
Favorite Quote
"The best and most beautiful things in the world cannot be seen or even touched—they must be felt with the heart."
– Helen Keller
Why I Love Dragonfly
I love the energy and acceptance that I feel in every class! I have felt welcomed by DragonFly family since the moment I walked in the door and I cannot wait to be a part of such an awesome team!
Little Known Fact About Me
I have biked across the state of Iowa 8 times and counting (RAGBRAI)!
Rachel M's Class Schedule