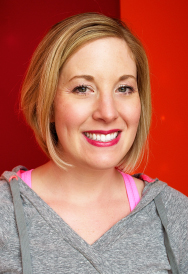 Nichole V.
HR Director, Teacher Trainer & Instructor
certifications
E-RYT
RYT
CYT
YACEP
Yoga Up
NASM personal trainer
ACE Group Fitness

My teaching style
I strive to create a creative fun class that will be enjoyed by all levels. I want you to find what you need out of every class. If it's strength, stretch, or peace you can find it in my class.
Experience
I have a passion for fitness. I love it!!! I began teaching in 2007. I teach a little bit of everything from spinning to TRX. They are all great and variety is key.
I fell in love with Dragonfly in August 2011 while doing a 2 week trial. I knew after my very first class that I wanted to teach yoga too and it had to be at Dragonfly. I began my 200 hour teach training program with YogaFit in March 2011 and finished in May 2014.
Favorite Pose
Wheel
I feel energized and strong in this powerful back bend. I love the endless possibilities of challenge.
Favorite Quote
"The pain you feel today is the strength you feel tomorrow. For every challenge encountered there is an opportunity for growth."
–Unknown
Why I Love Dragonfly
The staff, teachers, and members are all very welcoming. There is truly no judgement or competition at Dfly. It's a great community where I feel most at home.
LIttle known fact about me
I have twin 4 year old boys that were born 3 months early (they weighed 2 lbs) and are doing fantastic!!!
Nichole V's Class Schedule