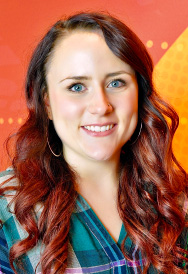 Meghan C.
Instructor
certifications
CYT
My Teaching Style
I love the freedom and creativity that yoga inspires in me. I aim to create unique and challenging flows that leave you feeling energized and accomplished. Each time we step on the mat, our practice looks a little different. I hope to create a safe space for you to witness the beauty of your personal practice!
Experience
In the summer of 2015 I finally decided to take my yoga mat out of my living room and into a studio. I had practiced yoga on and off, but never gave myself the chance to see if I liked it enough to develop a regular practice. My trip to Dragonfly Hot Yoga that summer was the first studio yoga class I ever attended. I was instantly obsessed and could not be happier that I chose to try Dragonfly that day. I now firmly believe that every good day involves lots of yoga!
Favorite Pose
Low lunge! I love all the variations and places I can take this pose that allow me to make it into exactly what I need on any given day.
Favorite Quote
"Whether you are the source or the reflection, be the light."
– Unknown
Why I Love Dragonfly
I, like so many others, fell completely in love with Dragonfly after I first walked through the doors. The welcoming atmosphere, amazing instructors, endlessly kind staff members, and abundance of positive energy had me hooked! As someone who is usually quite hesitant to try new things, I found myself severed from my feelings of anxiety the moment I entered the studio. It truly is an inviting space that welcomes all. I am so grateful I found Dragonfly and that I get to be a part of this amazing home to many!
Little Known Fact About Me
I completed my yoga teacher training in Maui, Hawaii! Aloha!
Meghan C's Class Schedule