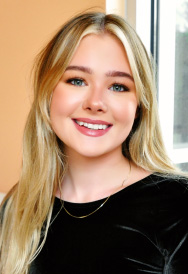 Makayla M.
Staff
Experience
I danced all throughout middle and high school, and when I arrived at college I needed something to help me de-stress and to keep my flexibility and strength. I started taking yoga and pilates classes. I instantly fell in love! Yoga is a great way for me to clear my head, and I always feel so amazing after taking a class!
Favorite Pose
Warrior 3 - It makes me feel strong and I love poses that focus on balance.
Favorite Quote
"Growth is uncomfortable, because you have never been here before"
- Kristin Lohr
Why I Love Dragonfly
I love Dragonfly because of the warm and welcoming environment that it facilitates. I had never taken a yoga class before arriving to college, and I loved that Dragonfly provided options throughout class to allow all levels and ages to succeed.
Little Known Fact About Me
I have a makeup business.