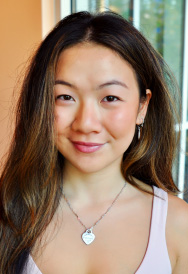 Laura Y.
Instructor
certifications
200-Hour Certified Yoga Teacher
Yoga Alliance - Corepower Yoga Chicago
My Teaching Style
I love to teach playful and energizing vinyasa, breath-to-movement, based classes creating sequences that embrace the physical and spiritual aspects of yoga. This holistic approach provides a welcoming space to listen to what your body needs while inviting the space to learn and try new twists, balances, and inversions, to develop a greater understanding of your mind, body, and soul! I encourage my students to carry the resilience, patience, and mindfulness they cultivate in class into their daily lives.
Experience
My mom introduced me to yoga at the age of 14 bringing me along to weekend classes. Even back then, I couldn't resist the allure of inversions – going upside down was my favorite part of the practice. This enthusiasm for inversions remains with me to this day. As I eventually retired from gymnastics, I began to explore new avenues to stay active, which ultimately led me back to yoga. My profound passion for yoga was ignited during my time abroad in Copenhagen, where I discovered the unique free-flow vinyasa-style class that made me feel truly alive. It was in those moments that I felt a profound connection between my mind, body, and soul. This experience inspired me to share the sense of familiarity and vitality that yoga brought me with others. Motivated by this calling, I decided to pursue my 200-hour certification at CorePower Yoga in Chicago. This training not only allowed me to deepen my personal practice but also fueled my desire to share my knowledge and passion with others.
Favorite Pose
Forearm Stand - Pincha Mayurasana
My absolute favorite yoga pose is the Forearm Stand or Pincha Mayurasana. In the world of inversions, it holds a special place in my heart as it allows me to fuse my mind and body in a unique way, continuously surprising myself with the contortions I can achieve and the exhilaration of being upside down, feeling the blood rush from my feet to my head. What makes it even more special is the resilience it's taught me – the knowledge that even if I didn't succeed on my initial attempts, the journey was rewarding in itself, instilling patience and determination. The beauty of this pose lies in its endless possibilities; it's a never-ending adventure of growth, with new variations and transitions to explore, making it a constant source of excitement and engagement in my yoga practice. From a pose I once thought was unattainable, it has evolved into my absolute favorite, a testament to my dedication and personal growth in yoga.
Favorite Quote
"People will forget what you said, people will forget what you did, but people will never forget how you made them feel."
—Maya Angelou
Why I Love Dragonfly
I love DragonFly because it feels like a second home to me when I'm in Madison. It's a place where I can authentically be myself, whether I'm practicing yoga or teaching.
Little Known Fact About Me
A little-known fact about me is that I used to pole vault, and my personal record was clearing a height of 8 feet!
Laura Y's Class Schedule