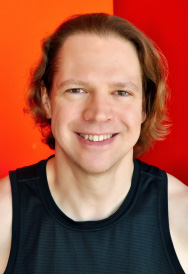 Kyle A.
Assistant Manager, IT Director, and Instructor
certifications
RYT-200

My Teaching Style
I love to present accessible opportunities for each student to realize their own moments of personal grace and growth. My style is upbeat and purposeful, encouraging students to explore and rethink their edges, both mental and physical, and perhaps peek past them to witness a glimpse of their future selves.
My flows begin with a firm foundation in mindfulness, joyful focus, self-compassion, and breath. We build from there, fostering confidence, openness, and strength as we work towards empowering peak moments, offering opportunities for each student to find and express their unique voice.
I strongly encourage everyone to take what they need, and know that is what is most important, whether that is pushing their edge, freestyling, or taking some much needed and deserved rest on their mat-- I will support you!
Experience
My yoga journey began on April 3, 2020. I spent the next year teaching myself at home with the help of a couple apps and LOTS of googling. I practiced nearly every day, and on my one year anniversary celebrated by coming to Dragonfly on an intro trial-- and fell in love with the studio, staff, and community. I continue to practice near daily, loving the space and comradery at DFly. In March of 2022, I completed my RYT-200 training here at DFly and applied as a teacher. I continue my journey of exploring and expanding my Yoga experience every chance I get!
Favorite Pose
Extended Side Angle- There is so much you can feel and do in this pose! Need a break? Rest your elbow on your knee. Amp it up? Extend arms long or half bind and open up. Feeling like a challenge? Move into full bind or Bird of Paradise! Feel like Flying? Lift off to Half moon. Awesome.
Favorite Quote
"Live as if you were to die tomorrow; learn as if you were to live forever."
—Mahatma Ghandi
Why I Love Dragonfly
Sooo many reasons-- From the first moment I stepped through the door I felt like I was part of something truly special. The community, staff, and instructors are all so friendly, fun, kind, and inspiring. I smile every time I walk through the studio doors.
Little Known Fact About Me
I was born in a car-- even says so on my birth certificate for place of birth!
Kyle A's Class Schedule