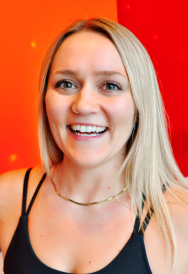 Kirstyn N.
Instructor
certifications
Power Up

My Teaching Style
I design my classes to be challenging & fun with a great playlist and a little more strength focus and getting your heart rate up through strength movements. Of course, there will always be some sort of cardio for the cardio lovers, some classes more cardio and some classes less, it changes from week to week!
I encourage everyone in class to listen to their bodies, modify movements if needed, take the intensity up when you're feeling great, and bring the intensity down when needed; your best looks different every single day, there is no ego in my class. I will always give modifications to make my class suitable for every single person. I want everyone to feel strong & empowered leaving my class, I don't care if it's your first time taking Power Up or your 500th time.
Experience
I took my first Power Up class at Dragonfly in 2017 which was also my first ever group fitness class and I was hooked right away. I loved the energy, the challenge, the heat, the people! I have learned so much from taking Power Up classes, listening to the many educated instructors' cues and comments, looking at my own form and applying the cues. I knew in 2018 that I wanted to teach Power Up one day, but the teacher trainings never lined up with my schedule, then covid hit and everything was paused for a while. As soon as they offered a Power Up training in fall on 2022, I knew I had to get certified, start teaching & get out of my comfort zone. I taught my demo in late 2022 and started teaching my first class January 2023.
Favorite Pose
I love a good full body compound movement that will also get your heart rate elevated. Dumbbell snatches, cleans, squat to overhead press. I also love RDL variations!
Favorite Quote
I have two favorite quotes that you will probably hear me say in most classes, but I think both are so incredibly important.
"It's you vs. you, no one else."
"Your best looks different every day."
Why I Love Dragonfly
I love Dragonfly for the community of people, the variety of instructors and classes. There is truly something for everyone.
Kirstyn N's Class Schedule