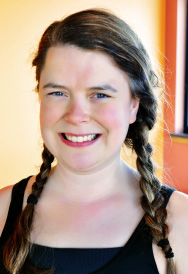 Kirsten S.
Instructor
certifications
RYT-200

My Teaching Style
I focus my classes on a specific intention. I find so much joy in creating classes that fit together. My hope is that my classes are approachable to students of all levels. I also enjoy sprinkling in some humor through out class!
Experience
I started practicing yoga in college when I was in search of a way of moving my body that I actually enjoyed! I loved the way yoga made me feel both physically and mentally. In the Spring of 2021, I decided to start my yoga teaching journey going through the "Breathe for Change" 200 hour yoga teacher training.
Favorite Pose
I love flowing through Warrior 2, Reverse Warrior, and Extended Side Angle.
Favorite Quote
"Joy comes to us in moments—ordinary moments. We risk missing out on joy when we get too busy chasing down the extraordinary."
- Brené Brown
Why I Love Dragonfly
I feel so welcome here! As a new teacher, the other teachers have been so kind and supportive.
Little Known Fact About Me
My "day job" is teaching band to students in grades 5-12!
Kirsten S's Class Schedule