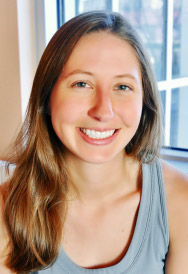 Kiley S.
Staff
Experience
I have been practicing yoga since 2013. My sister introduced me to yoga, and it is something we've shared and loved ever since. My favorite class is a hot yoga flow because it combines a great workout with the awesome spiritual and grounding aspects of yoga.
Favorite Pose
Triangle - Trikonasana
Favorite Quote
"I've learned that people will forget what you said, people will forget what you did, but people will never forget how you made them feel."
― Maya Angelou
Why I Love Dragonfly
Dragonfly offers so much variety. All the classes and instructors are unique from one another. The instructors are also intentional in giving their classes a brand-new series of poses and sequences each time. When I moved to Madison, I felt very welcomed by the staff and other yogis at Dragonfly. It did not take long before I knew it would become my new yoga home.
Little Known Fact About Me
I speak Spanish! I was a Spanish teacher for three years in Illinois. Me encanta conocer gente en Madison que hable español.