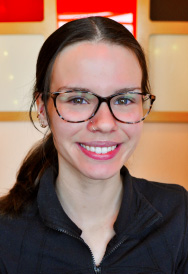 Kelly Pl.
Staff
Experience
I started yoga last November after I had a back injury and wanted to try a form of exercise that would be lower impact. I started going to Dragonfly, and I was immediately hooked. It became not only a way to move my body, but something that decreased my stress and something I wanted to go to everyday to see my
own personal growth.
Favorite Pose
Wheel
Why I Love Dragonfly
I have never met staff/instructors who genuinely care so much about everyone who walks through the doors—it is definitely a sense of home and family for me.
Little Known Fact About Me
I am also a student at UW-Madison, where I'm studying Spanish, computer science, and math, and I also do competitive cheer for my college!