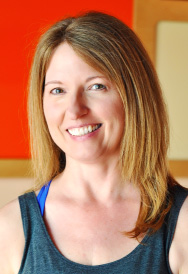 Kelly P.
Instructor
certifications
E-RYT 500
Senior Yoga
Yoga Body Bootcamp Certified Basic Trainer
Yin
Yoga Life Coach
Certified Teacher Assistant
Certified Yoga Personal Trainer
First Aid, CPR, and AED Certified

My Teaching Style
I found yoga in my quest for enjoyable, empowering exercise. I set out to strengthen my body and, with pleasant surprise, found mental and spiritual strength as well. My goal is to live in happiness and encourage happiness in those around me...family, friends, students, and strangers alike. Described by students as sincere, perceptive, and caring, I will bring you challenges and encouragement plus a healthy dose of humor. You will leave class able to carry your experiences with you to your daily life.
Experience
I received my 500-hour teaching certification from Debbie Williamson, creator of Wild Abundant Life, hosted by Dragonfly Hot Yoga. Since becoming certified, I've had the pleasure of teaching students with widely ranging yoga experiences and fitness levels.
Favorite Pose
Supta Baddha Konasana (Reclined Bound Angle Pose) Although not known as one of the more "glamorous" yoga poses, this pose hits a reset button for me during busy or stressful times.
Favorite Quote
"So you're sayin' there's a chance..."
—Lloyd Christmas
Why I Love Dragonfly
Dragonfly offers a wide variety of opportunities from more traditional styles of yoga to fitness inspired classes. The teachers and staff are talented and motivating, the members are friendly and inspirational, and the studios are simply beautiful.
Little known fact about me
I love Scrabble. The real, old school, tiles and board, Scrabble.
Kelly P's Class Schedule