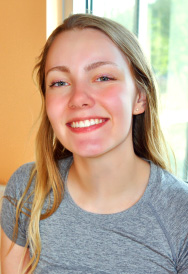 Kayla B.
Staff
Experience
I did a private class with my friends here and had so much fun! I had never done hot yoga, or much yoga at all beforehand, but came out of the session feeling so amazing and relaxed. I would love to take more classes in the future!
Favorite Pose
Shavasana - I can focus on relaxing
Favorite Quote
"No act of kindness, no matter how small, is ever wasted."
– AESOP
Why I Love Dragonfly
I have felt so welcomed ever since my first day here. Everyone I have met has been so kind and encouraging. I love coming in to work and meeting new people!
Little Known Fact About Me
I love to travel and hope to live in Arizona one day!