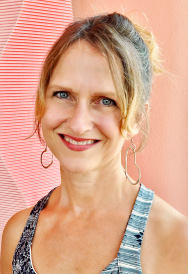 Kay Lera
Instructor
certifications
RYT200
E-RYT

My Teaching Style
I strive to create an experience where each yogi can simply let go of the outside world and care for themselves. Every class will awaken the whole body and then focus on the theme of the class, whether it be a chakra, a muscle set, or working toward a peak pose. My playlists are matched to the mood of the class. Sometimes, even the lyrics match the theme. My mantra is "Take what you need and need what you take!" If you want to go all out in a pose, go for it! I'll guide you. If you want to lay in child's pose, TAKE it! I'll support you. Come explore yourself and let go.
Experience
My yoga journey began in 1996 when I took my first ever yoga class. Over the decades, I moved in and out of yoga practice, until 2009, when I discovered HOT yoga! This discovery made yoga a need and not just a form of exercise. My mind was blown! The heat enabled me to truly experience each moment as new and forget the rest of the world.
In 2014, I discovered Dragonfly and it quickly became my yoga "home". I received my RYT certification through Dragonfly's amazing teacher certification program in 2017. Since then I have taught for the Verona City Rec. program, for Middleton schools, in corporate offices, and at Bliss Flow Yoga.
Favorite Pose
Do I HAVE to choose? Hmmm… I imagine, today, it would be revolved crescent warrior. It helps me feel so open and creative.
Favorite Quote
"Yoga is like music: the rhythm of the body, the melody of the mind, and the harmony of the soul create the symphony of life."
― B.K.S. Iyengar
Why I Love Dragonfly
It has it all, a diverse group of loving people, excellent classes, heated or mild rooms and, most of all… a safe, welcoming community.
Little Known Fact About Me
I am the owner of the Rest Easy Pet Sitting business. I ADORE animals and provide in-home care for pets when their humans are away from home. You can learn more at https://www.resteasypetsittingllc.com/ ~ Namaste!
Kay Lera's Class Schedule