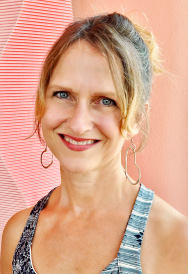 Kay L.
Instructor
certifications
RYT200
E-RYT

My Teaching Style
My intention, when teaching, is to create an experience where yogis are able to make the class exactly what they want it to be. I want practitioners to learn more about themselves and fine tune their understandings. After all, there is NOTHING like finding yourself in the moment. One of my favorite rules in class is "Take what you need and need what you take!" Yoga is all about learning the difference between the two. If you want to go all out in a pose, go for it! I'll guide you. If you want to lay in child's pose, TAKE it! I'll support you. Come explore yourself and let go.
Experience
I'm a E-RYT with over 1,800 hours of teaching experience.
My yoga journey began in 1996 when I took my first ever yoga class. Over the decades, I moved in and out of yoga practice, until 2009, when I discovered HOT yoga! This discovery made yoga a need and not just a form of exercise. My mind was blown! The heat enabled me to truly experience each moment as new (meditation) and forget the rest of the world. Eventually, some of my yoga instructors mentioned that I might like teacher training and man, were they right! At Dragonfly I trained to be a certified RYT and at Dragonfly I remain - as it is my home.
Favorite Pose
Do I HAVE to choose? Hmmm… I imagine, today, it would be dancer pose. It helps me feel so open, focused and, at the same time, creative.
Favorite Quote
"Yoga is like music: the rhythm of the body, the melody of the mind, and the harmony of the soul create the symphony of life."
― B.K.S. Iyengar
Why I Love Dragonfly
It has it all, a diverse group of loving people, excellent classes, heated or mild rooms and, most of all… a safe, welcoming community.
Little Known Fact About Me
I adore animals- all of them! I own Rest Easy Petsitting LLC https://www.resteasypetsittingllc.com.
Kay Ls Class Schedule