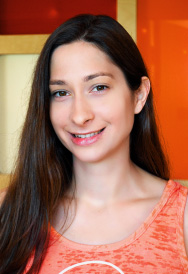 Katie M.
Instructor
certifications
RYT & CYT 500 Hour
E-RYT & CYT 200 Hour
YCAEP (Yoga Continuing Education Provider)
Yoga Up™
Power Up™
BarreAmped
Yin & Restorative 300 Hour Level
Guided Meditation Instructor
Yoga Life Coach
Certified in Hands on Assists
Certified Yoga Personal Trainer

My Teaching Style
Quirky with a touch of humor and a passion for life. In my classes you can expect lots of options so that, on any given day, you can choose to modify or amplify as needed. I like to invite my students to take what they learn on the mat out into their everyday lives. You can expect to work hard in Power Up and Barre, but allow yourself to slow things down a notch in flow and yin. I love answering questions and chatting about all things yoga; please let me know what is on your mind. Lastly, you can expect hands-on-assists and lavender towels whenever possible!
Experience
As a teacher of dance and yoga, I truly have a passion for movement and an appreciation for what our bodies can do! I earned my 200 hour certification in 2014 and my 500 Hour advanced yoga certification in 2016. I love learning myself, and am a lifelong student of Yoga. There is always more to learn and to discover. I enjoy teaching all types of students, from the brand new yogi to the advanced practitioner, athletes, people with injuries, and everyone in between. It is my experience that everyone can benefit from some form of yoga practice--you just need to find a style which fits your needs!
Favorite Pose
Vrksasana or Tree pose. I like the freedom and strength I feel in the pose. I like the quiet and calm it brings to my mind.
Favorite Quote
"The goal is not to be better than the other [person], but your previous self."
– Dalai Lama
Why I Love Dragonfly
I love Dragonfly for the non-judgmental atmosphere and because the staff truly care about its yogis. When someone asks how you are, they actually listen to your answer.
Little Known Fact About Me
After winning at the regional level, I was flown to Texas to compete in the National Collegiate Air Guitar competition. I don't even play the real guitar, but I placed second!
Katie M's Class Schedule