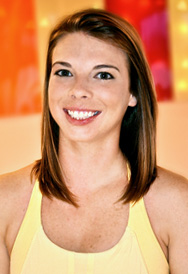 Jill C.
Instructor
certifications
CYT
RYT

My Teaching Style
In my class you will find your breath initiating your movements leading you through a slow, mindful, yet challenging practice. I love to infuse my classes with fun playlists and pair the movements with innovative sequencing. You will never know what is coming next! Your body will "Thank You" for mixing up your practice with a unique sequence each class. I also try to incorporate themes into each class; for example: a hip-opening class, a twisting class, or a class utilizing props such as blocks or straps. My classes will keep you guessing and wanting more.
Experience
I received my 200-hour interdisciplinary yoga instructor certification at the Yandara Yoga Institute on the Big Island of Hawaii in 2013. This intensive training program, which focused on Hatha yoga, vinyasa flow and yin yoga, completely submerged me into the yogi lifestyle and taught me much more than just the fundamentals of the yoga poses (ask me about ecstatic dance).
Favorite Pose
Chair pose (its more of a love-hate relationship). It's incredible how strong our bodies are and chair continues to illustrate this for me. When I'm holding chair pose, my mind will begin to tell me that I can't go any further, but if I tell the mind to quiet, the body perseveres. Truly amazing.
Favorite Quote
"Imagination is more important than knowledge."
—Albert Einstein
Why I Love Dragonfly
Dragonfly is a community of people supporting people. No matter where you are in your yoga practice or in life, Dragonfly will make you feel welcomed and like you belong.
Little Known Fact About Me
I am obsessed with Harry Potter (won a costume contest at a midnight book release and was featured in the newspaper-obsessed).
Jill C's Class Schedule