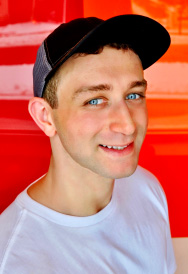 Jacob K.
Instructor
certifications
Yoga Up

My Teaching Style
I love teaching with high energy and loud music! My mission is to create an environment where clients can be both challenged and encouraged all while having a good laugh in between sets. I design my classes to make sure you experience a nice balance of cardio, strength, and stretching. I want clients to walk away feeling proud of the work they did for themselves!
Experience
I started my journey in 2018 when a friend invited me to a $5 flow class at Dragonfly. I had never taken a hot yoga class before and assumed it wouldn't be that challenging. Well, I was wrong. I loved the heat and difficulty of holding poses! I came back every week. Things really changed for me when I took my first UP class. After I took Power Up and Yoga Up, I was beyond hooked and these types of classes became part of my regular fitness regimen. I really enjoyed the loud music and intensity of these classes. Most of all, I loved the instructors who created such a fun environment to challenge myself. The variety of classes at Dfly have made me become stronger in mind and body. I can't wait to give that back!
Favorite Pose
Malasana Squat- I love this pose! There is so much in this pose that you can do for stretching while also adding different movements for strength. This is a regular pose to play with in my classes!
Favorite Quote
"Writing is like running. I may have a moment where I write absolute crap but at least it's something. It's better to run a shabby five miles than none at all."
—David Essinger
Why I Love Dragonfly
I arrived at Dragonfly during a difficult time in my life and it had such a surprising impact on me. I couldn't explain how the different classes were helping me both mentally and physically but they were. I kept coming back because I experienced their mission and values of creating a safe space for all. My love grew when I started taking the UP classes because Dfly made it so fun to be physically challenged. This is such a powerful place with so much to offer!
Little Known Fact About Me
I can eat an entire 4-pack box of Crumbl cookies in one sitting.
Jacob K's Class Schedule