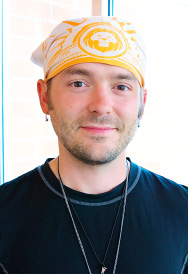 Ian H.
Instructor
certifications
Registered Nurse
E-RYT

My Teaching Style
I love yoga of all styles and formats, however I teach mostly heated vinyasa flow with mudras and yogic philosophy woven in. I like to design my classes to work towards a peak posture(s) and always have some core work in classes as well. I teach the classic HOT 90 as well as yoga sculpt in addition to vinyasa style classes.
Experience
I graduated from UW-Milwaukee in 2011 from the school of nursing and somewhere in there I found yoga through a meditation course. When I moved to Portland, OR in 2015 I did my first (of 3) 200hr teacher training and have been teaching yoga ever since. I taught full time at Corepower in 2017 as well as assisted in the management of the studio. I find yoga studios to be my happy place!
Favorite Pose
Childs pose, Shavasana and everything in between.
Favorite Quote
"Let the luxuries be luxuries ."
—James Grant (PDX teacher whom inspired me the most)
Why I Love Dragonfly
Dragonfly is warm, inviting and energetic! And also the studio floor reminds me of spaghetti.
Little Known Fact About Me
I had a hard time leaving Portland but I am so glad to be back in my hometown Madison! (we have way more Hockey rinks here!)
Ian H's Class Schedule