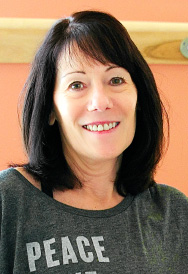 Fran L.
Instructor
certifications
200 CYT

My Teaching Style
I love to have my class feeling more relaxed and stress free during and after class than when they arrived. By providing a calming atmosphere and assisting yogis helps to bring them to their edge of total bliss.
Experience
My yoga experience began many years ago by following yoga videos at home. I then joined Dragonfly in 2012. I loved the inviting atmosphere, the different choices and especially hot yoga. After being a member of Dragonfly for seven years I decided I wanted more and enrolled in the 200 hour Yoga Teacher training in the summer of 2019.
Favorite Pose
Eagle – I love how twisted your whole body is when you are in the pose and then the total concentration to hold the pose.
Favorite Quote
"Whether you think you can or think you can't, you're right."
– Henry Ford
Why I Love Dragonfly
I have always felt so welcomed at Dragonfly. All the staff is so friendly and the facility is very inviting. It's a place that makes me want to keep coming back to. I am so happy to be a part of the Dfly family.
Little Known Fact About Me
I am a lifelong Madison resident. Not many people can say that – I think!
Fran Lutz's Class Schedule