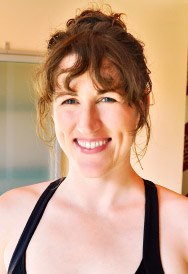 Colleen H.
Instructor
certifications
CYT 200 (Power Flow and Yin)

My Teaching Style
In my classes, I like to connect fitness with inner reflection, which allows my students to advance in both their physical and spiritual practices. I craft yoga classes that build the strength, balance, and flexibility to help my students thrive both on and off their mats. I encourage my students to take chances, test their limits, breathe deeply, smile, and have fun. I work to build a warm, safe, relaxed atmosphere, which allows my students to be vulnerable and engage in introspection. I found yoga at a challenging stage of my life, and my yoga practice has helped me persevere through many more. I feel honored and privileged to share the gift of yoga with others.
Experience
I began practicing yoga 10 years ago at Denison University in Ohio, where the college offered free Ashtanga yoga classes. After college, I joined Teach for America and moved to rural Arkansas to teach high school science. Because the town was so isolated, I drove an hour and a half to the nearest yoga studio once a week, every week, for three years. This experience helped me appreciate my time flowing with other yogis in the studio and deepened my independent yoga practice. After my time in Arkansas, I moved to Austin, Texas, where I completed my 200-hour yoga teacher training through CorePower Yoga. I moved to Madison for graduate school, and began teaching yoga independently (in my driveway and at parks!) during the pandemic. I am thrilled to join the Dragonfly yoga family and practice with you all, both in the studio and via livestream!
Favorite Pose
I love all arm balance poses, especially eight-angle pose, flying pigeon, and fallen angel! All of these poses are powerful, yet graceful.
Favorite Quote
"Do not be dismayed by the brokenness of the world. All things break. And all things can be mended. Not with time, as they say, but with intention. So go. Love intentionally, extravagantly, unconditionally. The broken world waits in darkness for the light that is you."
– L.R. Knost
Why I Love Dragonfly
After moving to Madison, I shopped around at a few studios before finding Dragonfly. I knew it was the place for me right away. I was so impressed by the thoughtfulness of the instructors. Not only did they push me to deepen my physical practice, but they also gave me the space to unwind and let go of any baggage I brought to the studio that day.
Little Known Fact About Me
When I was one, I was diagnosed with an aortal abnormality that was essentially destroying my left lung. The doctors designed a surgery to correct it, and I was the first person to undergo the procedure. Luckily, everything turned out fine, but my left shoulder blade is extra mobile because of it (which is great for binds in yoga!).
Colleen H's Class Schedule