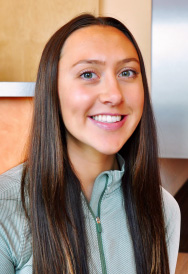 Cole J.
Instructor
certifications
Yoga Up
Power Up
My Teaching Style
I want everyone to get the most out of their time on the mat — whatever that means for them. My focus is on form, energy, motivation, and fun! I try to make every class a full-body workout by incorporating a range of poses targeting different muscle groups. Music is also very important, so I spend a lot of time curating the playlist!
Experience
The first class I ever attended was a 60 minute Yoga Up that my friends brought me to in 2017. I had no idea what I was getting myself into (and had to leave the room a few times during that first class), but I've never looked back since! I fell in love with the heated room and started trying all of the classes, challenging myself in ways I never thought possible.
Favorite Pose
Anything in plank — we love core strength!!
Why I Love Dragonfly
I grew up as an athlete and played competitive sports from elementary school through college, and Dragonfly has felt like a natural complement, providing the familiar qualities of community, challenge, and growth. The variety of classes and teaching styles allow you to take what you need that day — whether it's a restorative yin, a focused barre class, or a high intensity Power Up! There is a place for everyone here.
Cole J's Class Schedule