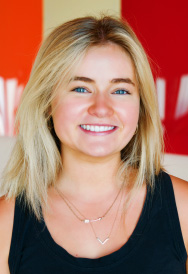 Chloe C.
Instructor
certifications
Yoga Sculpt
My Teaching Style
I love to have fun in class and create an atmosphere where students are encouraged to push their boundaries and tap into their inner strength. In my classes, I bring a high-energy approach to yoga and include many strength exercises. My goal is to provide a safe and welcoming space for everyone and help my students grow into their best selves.
Experience
My yoga journey started six years ago alongside my family at CorePower Yoga. Not only did this practice become a bonding activity for us, but it also had a profound impact on my mental and physical well-being. It was a dedicated yoga instructor in Denver, Colorado, who inspired me to take my practice to the next level. This past summer in Irvine, California, I completed my Yoga Sculpt Teacher Training with my sister! It was a transformative experience that deepened my understanding of yoga and its benefits. I am thrilled to bring my passion and knowledge to the DragonFly community!
Favorite Pose
High Plank - I am a huge advocate for core work in yoga, as it not only strengthens your core but also enhances your overall practice. In high plank, you engage your 360-degree core AND work various other muscle groups! Finding stability in this pose empowers me and makes me feel strong.
Favorite Quote
"Dont forget to have fun."
Why I Love Dragonfly
From the moment I first stepped into Dragonfly in Madison, I felt an immediate sense of belonging. It's more than just a studio; it's a safe space and a welcoming community. The inclusivity, kindness, and unwavering support I've experienced at Dragonfly have kept me coming back, and I'm excited to continue being a part of this wonderful community.
Little Known Fact About Me
The age difference between my youngest sister and I is 14 years!
Chloe C's Class Schedule