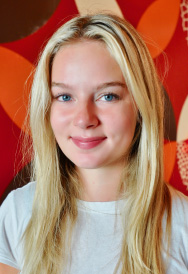 Chloe A.
Staff
Experience
I started yoga approximately 4 years ago. Personal fitness is very important to me, and I've made it my goal to stay active for years. I love weight lifting and finding ways to keep myself in shape, and adding yoga into this has kept me feeling my best. I plan on staying active throughout my time in Madison and creating new ways to make fitness fun!
Favorite Pose
Happy Baby - I love to feel free and silly
Favorite Quote
"Every woman's success should be an inspiration to another. We're the strongest when we cheer each other on"
– Serena Williams
Why I Love Dragonfly
I love Dragonfly because I immediately feel uplifted upon walking in. There is motivation everywhere, and it has really helped grow my appreciation for the art of yoga. The variety this studio provides demonstrates that everybody is accepted and welcomed in the dfly environment.
Little Known Fact About Me
I played competitive volleyball for 12 years!