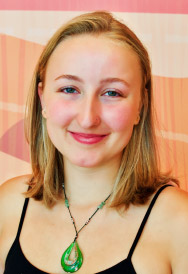 Charlotte S.
Staff
Experience
My mom has been going to Dragonfly for years and I decided to join her the summer after my freshman year of college. It took me a few classes to adjust to the heat, but I quickly fell in love with the environment and how my body would feel during and outside of class. Years of intense sports and various injuries had taken a toll on my body, so this difference I felt was very relieving. I continue to go to classes on my own and with my mom!
Favorite Pose
Warrior three - I always gravitate towards poses that test my balance
Favorite Quote
"It's so easy to laugh
It's so easy to hate
It takes guts to be gentle and kind"
- I Know It's Over by The Smiths
Why I Love Dragonfly
Dragonfly helps me to escape the "grind culture" mindset. In classes, I take the time to set an intention and can feel my thoughts shift from negative to positive. I don't have to be the most impressive or athletic person in the room; I can just center my experience in how I feel and what makes me feel stronger.
Little Known Fact About Me
I am VERY into autumn festivities - Halloween, horror movies, apple farms, etc.