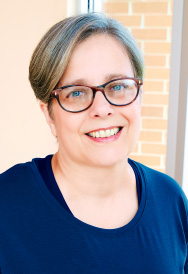 Carrie S.
Instructor
certifications
CYT - 200 Hour
Yoga for All Training
Yin Teacher Training

My Teaching Style
My classes encourage students to listen to what their body and mind needs at that moment, use breath and mindfulness throughout their practice and to practice with compassion and patience.
Experience
I began practicing in 2013. After more than a few conversations with instructors about the Dragonfly teacher training program, I decided that it was time for me to continue my yoga journey in the 2018 summer intensive training session.
Favorite Pose
Any pose that allows me to bring my forehead to the earth allows me to pause and breathe and remember why I have rolled out my mat.
Favorite Quote
"It's not having what you want, It's wanting what you've got"
– Sheryl Crow
Why I Love Dragonfly
I remember arriving for my first class and being welcomed with a smile. The teacher asked if I had any previous yoga experience and when I replied "No", she gave me some reassuring words. Before I knew it, I was practicing regularly, attending workshops and exploring the barre and fitness classes. The Dragonfly community is always so accepting and supportive of everyone who walks in the door.
Little Known Fact About Me
I love to bake bread, especially sourdough loaves!
Carrie S's Class Schedule