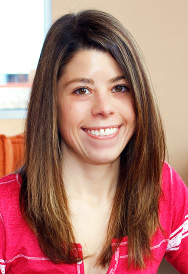 Carly S.
Instructor
certifications
BarreAmped
BarreAmped Advanced
BarreAmped Boot Camp
BarreAmped Cardio Boot Camp
BarreAmped Fire
BarreAmped Power Stretch
Yoga Up
Power Up
Red Cross First Aid/CPR/AED

My Teaching Style
What I aim to bring to my classes as a teacher mirrors what I enjoy getting out of a class as a student: a safe place to grow and test boundaries, motivation from both the instructor and music, lots of core work, high-intensity, some fun and leaving feeling proud! I do gravitate towards higher-intensity classes and poses because I believe that if you're going to practice a class-based fitness regimen then you are pushed further than where you would take yourself, both mentally and physically.
Experience
Without any prior yoga or barre experience I dove into a Dragonfly intro month offer back in December 2014 and I've been a practitioner here ever since. Yoga was something I needed in my life without even realizing and it has become a chameleon of sorts over these last couple of years, changing its color and meaning depending on where I am in life as a whole or on any given day. I was also drawn to the structure and discipline of the BarreAmped method so I went through BA Foundations certification in December 2016.
Favorite Pose
Fallen Angel and Half Pigeon
Favorite Quote
"You'll have moments when you feel like a lion, and moments when you feel like a mouse. Just know that no matter how you feel, you still have a heartbeat and a soul worthy of love, so learn to roar even when you feel small, because you are more than the feelings you may have."
– T.B. LaBerge
Why I Love Dragonfly
The staff, instructors and fellow yogis are welcoming and warm. Ever since taking my first Flow class with Tiffany it has felt like a second home. Never once have I felt judged or intimidated. One thing I have struggled with my entire life is being social. Making a commitment to attend classes has allowed me to be among people in a like-minded environment and slowly gain confidence in not just my practices, but also within myself. If you had told me even a year ago that I would be teaching now I would've said, "no way"! It's a testament to how supportive and encouraging this community is.
Little Known Fact About Me
I was a pretty scrappy kid, growing up on a small family-owned dairy farm with 120 acres for a playground. Always dirty and active! It instilled a love for the outdoors, animals and being active at a young age. My parents still live on the farm and it's a favorite place to visit as an adult.