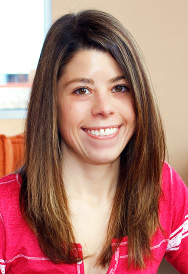 Carly S.
Instructor
certifications
Yoga Up
Power Up
Circuit Up
BarreAmped
(Boot Camp, Cardio, Fire, Power Stretch)
First Aid/CPR/AED

My Teaching Style
My style includes motivation, having fun and being challenged while focusing on breathing, form and technique. "Movement with intention." Level-of-intensity is unique to you, so I offer options for poses and exercises to meet how you're feeling today. I also love to turn the music up and include a variety of genres in my playlists. Let me know if you have any song requests!
Experience
I've been a practitioner at Dragonfly since 2014. I was drawn to the discipline and structure of the barre method that was offered, so I went through training in 2016 and began teaching in 2017. Soon after that, I fell in love with the energy of the HIIT classes and proceeded to take the "Up" trainings.
Outside of the studio, I have a passion for running and have completed 5K's, half marathons and sprint triathlons.
Favorite Pose
Barre: Seated Chair
Fitness: any variation of lunge
Yoga: Ardha Kapotasana (Half Pigeon)
Favorite Quote
"Tell me, what is it you plan to do with your one wild and precious life?"
– Mary Oliver
Why I Love Dragonfly
The staff, instructors and fellow yogis are welcoming and warm. Ever since taking my first class with Tiffany it has felt like another home.
Little Known Fact About Me
I grew up on a farm!
Carly S's Class Schedule