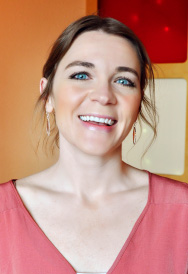 Brittany H.
Instructor
My Teaching Style
I was once told my teaching style is like a 'warm hug' - its my mission to leave every client feeling as such! I love beginning and ending flows with deep, peaceful rest and quiet - setting the tone for class, and hopefully for your day. I guide students through graceful, powerful sequences, in hope that they can see and feel their strength and beauty, and maybe challenge themselves. I weave alignment queues, and mindfulness & self-love reminders, throughout class, so students walk away not only having learned about and practiced yoga, but found a bit more peace and self-acceptance.
Experience
I found yoga in 2010 after a years/long struggle with body image and exercise issues. Through yoga I truly got to know my body, and developed deep honor and respect for all that it does. I took my first Dragonfly class in 2011, and attended sporadically at DFly and other studios over the years. In 2017 I became a monthly member and began a daily hot yoga practice at DFly that continues to this day! My drive to teach stemmed from a desire to help others work towards the same peace, joy, and acceptance - in both body and mind - that yoga gave me.
Favorite Pose
My answer to this shifts every few years as my body shifts and changes! Right now my favorite pose is Warrior 3 - I love the feeling of stability, power, stillness, and deep breathing.
Favorite Quote
"When you get to a place where you understand that love and belonging, your worthiness, is a birthright and not something you have to earn, anything is possible."
– Brene Brown
Why I Love Dragonfly
There's something about DFly that no other studio has - the combination of bright welcoming colors and spaces, clear emphasis on client care and service, and magnificent staff and teachers, that make it the most special place! There's authenticity at every touch point, which shows clients they can be their authentic selves when they walk through the door.
Little Known Fact About Me
I donated bone marrow in college!
Brittany H's Class Schedule