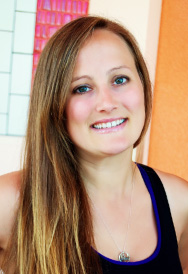 Amber K.
Instructor
certifications
CYT
American Red Cross First Aid and CPR
Elementary Education degree
Yogautism training

My Teaching Style
My teaching style is passionate, patient, and a little quirky. I like to work hard, have fun, and soak it all up through relaxation! I think yoga gives us the opportunity to work through challenges, be adventurous, and find grounding. I hope that is what you get from my class!
Experience
I reluctantly began doing yoga at the recommendation of my doctor after a car accident. I thought he was a kook! I was struggling with the reality that I could not run, surf, and lift weights anymore. A regular and growing practice helped me develop a patient and loving relationship with my body as it healed. The increased strength, flexibility, and body awareness I get from my practice helps prevent injuries and I am back to doing the activities I used to enjoy, though snowboarding has replaced surfing!
I am originally from the Upper Peninsula of Michigan and lived in Honolulu, Hi and Cocoa Beach, Fl before moving to Madison. Aside from teaching yoga, my passion resides in helping children realize their academic and social/emotional potential.
I completed my 200 hour certification though Dragonfly in March 2015 with the one and only, Tiffany Geier and am forever grateful for the experience!
Favorite Pose
Pigeon-ahhh :)
Favorite Quote
"When you do things from your soul, you feel a river moving in you, a joy."
– Rumi
Joy (noun): a feeling of great pleasure and happiness. If you have lost your joy, start living from your soul instead of your ego.
Why I Love Dragonfly
Dragonfly offers an amazing variety of classes and instructors in a welcoming atmosphere.
Little Known Fact About Me
I can walk on stilts.
Amber K's Class Schedule