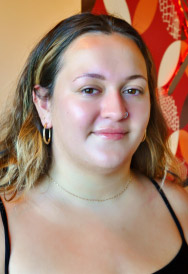 Abby K.
Experience
I started going to Dragonfly when I was in college. I've been going on and off for the past 6 years!
Favorite Pose
Legs up the wall! I love how restorative it is.
Favorite Quote
"Nothing changes if nothing changes."
Why I Love Dragonfly
Dragonfly classes have always been so welcoming and I often find myself coming back when I need consistency the most in my life.
Little Known Fact About Me
I host monthly themed dinners for my friends!