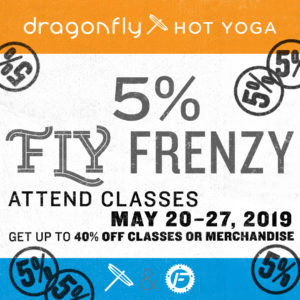 Get Up To 40% Off!
5% Fly Frenzy Challenge
May 20 – 27, 2019
Each Dfly or Flyght class you attend is worth 5% off class passes and merchandise!
We've got Spring Fever at Dragonfly Hot Yoga and Flyght! Pick up a Fly Frenzy card at the front desk, and each Dfly or Flyght class you attend May 20 through 27 is worth 5% off your next purchase! The discount is good for up to 40% off 10 and 20 Dragonfly or Flyght Class Passes, or up to 25% off regular priced Dragonfly or Flyght retail items. Wow!
8 Stamps max for class passes, 5 stamps max for retail items. Completed card must be redeemed by Sept. 1, 2019. Cannot be combined with other offers. May redeem at either Dragonfly or Flyght, not both. One card per person.