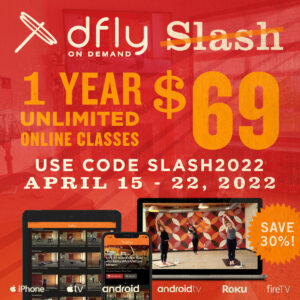 Get 1 Year of Online Classes for only $69
April 15 – 22, 2022
Save 30% off the regular rate
Use code SLASH2022 to save


Get 1 Year of online classes for $69 >
Have you seen our new and improved Dfly On Demand experience? We've got all new produced videos coming every week with formats and styles tailor made for doing yoga and fitness wherever you are!
We are so excited we are offering our first ever "slash" sale on our Dfly On Demand service! Enjoy one year of unlimited online yoga & fitness classes on your computer, smart TV, phone or tablet.
Our annual subscription is normally $99, so this deal saves you 30% – that works out to be less than $6 a month!
This deal is a great chance to share the Dfly love with your friends and family – Dfly anywhere! We have so much gratitude for all your support!
Sale ends April 22 at 11:59pm
Get 1 Year of online classes for $69 >
May not combine with other offers/coupons, and no refunds. Use code SLASH2022 at checkout to get the deal. Pay $69.30/year, then $99.99/year after. Can cancel before year subscription autorenews. Sale date: April 15 – 22, 2022