Dragonfly is back open!
Please review our new guidelines to help keep you and our staff as safe and healthy as possible. We know how important yoga and fitness can be for our minds and bodies, especially during trying times. We are so excited to see you in person again!
We want to make sure everyone is comfortable as we continue to offer the stress-reducing services we always have! We appreciate all of the support and love you have shown us and continue to show us as we navigate through this challenging time. As a local business, you mean everything to us! Namaste to all of you.
Please fill out our new waiver before coming to class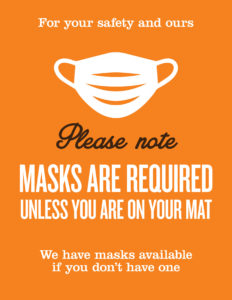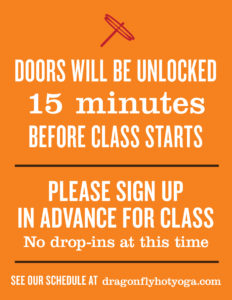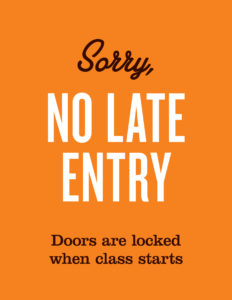 What We're Doing To Help Keep You Healthy
Monitoring health and protection
We will be staying home if we have had any COVID-19 related symptoms in the past 72 hours, or have been in contact with anyone with COVID-19 related symptoms in the past 72 hours, or have been in contact with anyone with a COVID-19 diagnosis in the past 14 days.
We will be washing and/or sanitizing our hands upon arrival at the studio, after touching our masks, after using the restroom and when we leave the studio.
We will be wearing masks. Instructors will be wearing masks before and after class.
Enhanced Cleaning Protocols
We have increased the time between classes so we can thoroughly disinfect high touch surfaces in between classes.
We have disabled air hand dryers and installed automatic paper towel dispensers in bathrooms.
Our HVAC systems have been adjusted (when possible) to provide more outdoor air intake and enhanced filtration.
We have placed hand sanitizer and paper towels throughout the studio so you can avoid touching door handles or other surfaces.
Temporary Service Changes
Capacity in the studio will be limited to allow 6 foot spacing between mats.
Classes will be available for online booking 48 hours in advance. Booking will close 30 minutes before class starts.
No drop-ins will be allowed, please sign up for class online in advance. Call us if you do not have computer access.
The studio will be closed to the public in between classes. We will open 15 minutes before class starts, and close 15 minutes after class ends.
We will not allow any late entry into class.
We won't be offering mat or towel rentals. We will have mats and towels available for purchase.
Besides weights, we won't be offering any props (blocks, bolsters, straps, etc). You may bring your own from home. We will have blocks, bolsters, blankets and straps available for purchase at the studio, and also online here.
We've removed all hospitality items like hair ties, deodorant, hair dryers, etc.
Our mat cleaning machine will not be available.
Our showers & tea lounges will be closed.
All retail sales will be final. Please wait to purchase retail items until after class.
We will only be accepting credit card payments, no cash will be accepted.
We will not be storing forgotten items. Please make sure you have all your items before you leave!
First class free and intro month specials are not offered during this time. If you are new to Dragonfly, please purchase passes or memberships and book your classes online. If you need help, please call or email!
What will stay the same
We will still sell bottled water & coconut water.
Water filling stations will be open.
Restrooms & changing rooms will be open.
The heat is on & the good vibes will be strong!
What You Can Do To Help Keep Yourself & Your Fellow Yogis Healthy
Monitoring health and protection
Please stay home if you have any COVID-19 related symptoms in the past 72 hours, or have been in contact with anyone with COVID-19 related symptoms in the past 72 hours, or have been in contact with anyone with a COVID-19 diagnosis in the past 14 days.
If you need to late cancel due to COVID-19 related illness or symptoms, we will waive late fees. Please email us if you are not feeling well.
Due to the rise in cases in Dane County, we are requiring everyone to wear a mask while in the studio, except when on your mat. We understand it may not be possible to wear a mask during the class itself, although we strongly encourage you to try.
We will have masks available if you forgot to bring your own.
Before class
Advance sign up is required. Limited space is available and drop-ins will not be allowed. You may sign up 48 hours in advance. Booking will close 30 minutes before class starts.
Please bring your own hand sanitizer if you can.
Please bring your own mat and towels (and any props you would like – blocks, straps, bolsters, etc). We will have mats, towels, blocks, straps, bolsters and blankets available for purchase in the studio and online here.
Please plan ahead and only bring necessary items into the studio with you (ie: mask, mat, towel, water, phone, keys). If possible, please change before coming to the studio.
Please come to class no earlier than 15 minutes before class time. For everyone's safety and comfort, we will not allow late entry to class. Please be on time!
Please purchase passes and memberships online or over the phone.
At the studio
Please practice social distancing! We are asking everyone to stay 6 feet apart from other yogis as you move throughout the studio. We will have 6 foot spacing marked in the studio for mat placement.

Upon arrival into the studio, please:
Wear your mask upon entering and wait in line 6 feet apart if other yogis are arriving ahead of you.
If you wish, place your belongings in provided plastic bag.
Check in at the front desk.
Place your shoes & other items into a cubby (please keep your socks on if possible).
Wash or sanitize your hands at the tea lounge sink, then fill up your water bottle if needed.
Then enter the studio and set down your mat in a designated spot. Please wait your turn and limit one person at a time to retrieve any weights.
Please remain on your mat.

During class, please:
Stay on your mat throughout the class. Please don't leave until the instructor opens the door at the end of class, unless there is an emergency.
Wear your mask if possible during class.

After class, please:
Put your mask back on.
Leave your weights where they are, we will disinfect for you.
Please wash or sanitize your hands after class.
Maintain 6 foot distance as you leave the studio, wash/sanitize your hands, and collect your shoes & belongings from the cubby area.
Leave the studio within 15 minutes. We wish we could stay and chat, but for now it's not a good idea!
We will not be storing forgotten items. Please make sure you have all your items before you leave!
Memberships & Class Package Activation
Active Memberships
Your membership is all ready to go, no action needed. Thank you so much for your support while we were closed. Your membership payments are vital and will continue to be vital to ensure Dragonfly still exists!
Suspended Memberships
Please email us to have your membership suspension lifted early! Otherwise, your membership will automatically reactivate after your 30 day suspension ends. Please note that our new sign up window is 48 hours, so you may want to unsuspend your account two days before you would like to take class.
Cancelled Memberships
If you cancelled your membership when we closed, and would like to become a member again, please email or call and we will get you set up!
Class Pass Holders
If you had active passes on your account when we closed, please email us to have the expiration dates extended by 92 days.
If you purchased our most recent 10 class slash, your passes will activate the first time you attend class, and then will expire 6 months from that date.
Livestream and On Demand Classes
Livestream and on demand online classes will continue to be filmed! Please note that we may be livestreaming a class you are attending. If your class is livestreamed, it will only be viewable by our subscribers and will not be recorded for later viewing.
All complimentary Dfly On Demand subscriptions will expire September 15, 2020. If you would like to continue streaming live and on demand classes, please sign up at dflyondemand.com and use code WELCOMEBACK to get your first month for only $7.49. $14.99/month after that, cancel anytime.
Private Classes
Please contact us if you are interested in private group (maximum 11 people) or 1-on-1 classes!
Thank you to each of you for doing your very best to keep our yogis healthy. We will keep you updated as things may change! We want Dragonfly to continue to be a refuge for you and our staff. As always, we are committed to making your in-studio experience as comfortable, clean, and safe as possible. If you have any questions don't hesitate to reach out to info@dragonflyhotyoga.com.