Circuit Up is a body conditioning class that uses high intensity aerobics, targeting strength building and muscle endurance.
Designed as a hybrid of our Yoga Up and Power Up classes, Circuit Up uses rotations of different exercise "stations" to complete a circuit. At each station you will participate in one activity for an allotted time (such as plyometric (cardio jump training), or using weights or resistance bands). When the set time is up, you will quickly move on to the next activity.
Completing a workout in this circuit format allows you to hit all muscle groups and provides a total body workout in a fun, fast-paced atmosphere where you are in control of the intensity of your workout. Using resistance bands targets multiple muscles at once in addition to providing a greater range of motion than you may get with weights or other equipment.
The unique structure of this class allows you to get hands on assists from your instructor, creating a form-focused and endurance-building experience. Watch your strength soar! All fitness levels welcome.
What we provide: Weights, blocks, and filtered water dispenser
Free rentals also available
Also available for purchase
Free rentals also available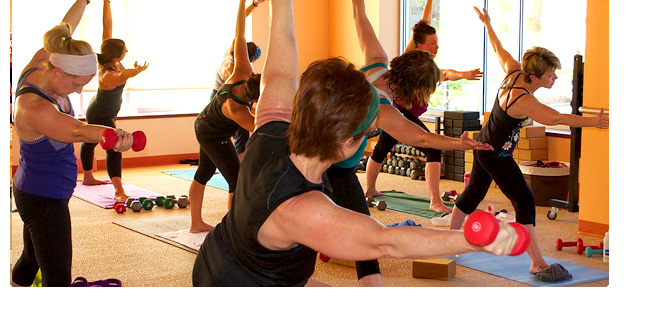 Quote from a client about why they like Circuit Up.
Circuit Up Class Schedule