Vote Dragonfly!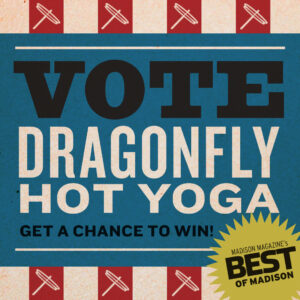 Vote Dragonfly >
Voting Period: June 1 – 30, 2023
If we win Best of Madison Gold, 4 lucky people will win prizes, including a FREE one year membership!!!
Spread your Dragonfly love with our Best of Madison Voting Contest!
Dfly Society, we are so thankful for all that you do and for supporting our phenomenal community and surrounding towns!
How to enter the contest
1. Go to www.madisonmagazine.com/bom and Vote for Dragonfly Hot Yoga (under Recreation & Fitness > Yoga Studio).
Please note: You can only vote ONCE.
2. After you vote, email bestof@dragonflyhotyoga.com with subject line "I Voted" to be entered for a chance to win!
If we win Best of Madison Gold, we will select lucky winners from the final round of voters! We will be giving away: One FREE yearly in-studio membership and 3 FREE one year subscriptions to Dragonfly On Demand with deluxe yoga kit (Strap/Blanket/Block/Bolster).
Thank you for the support!