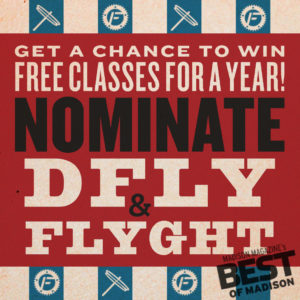 Best of Madison Voting Contest
Round 1 Nominations: August 1 – 31, 2019
Round 2 Voting: October 1 – October 31, 2019
If we win Best of Madison Gold, two lucky clients will win a FREE one year membership!!!
Spread your Dfly and Flyght love with our Best of Madison Voting Contest! Dfly Society, we are so thankful for all that you do and for supporting our phenomenal community and surrounding towns!
First, we need your help to get ON the final ballot! Please nominate us by writing in Dragonfly Hot Yoga under the "Yoga" category, and Flyght Cycle under the "Alternative Fitness Center" category. You can vote once per day!
If we make it to the final round of voting, AND we win Best of Madison Gold, we will select two lucky winners from the final round of voters! We will be giving away FREE one year memberships: one Flyght Membership and one Dragonfly Membership!
Thank you for the support!