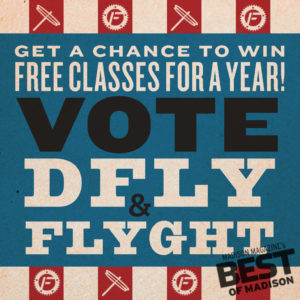 Best of Madison Voting Contest & Fundraising Events
Voting Period: October 1 – 31, 2019
Spread your Dfly and Flyght love with our Best of Madison Voting Contest! Dfly Society, we are so thankful for all that you do and for supporting our phenomenal community!
Voting Contest – Win Free Classes for a Year!
If we win Best of Madison GOLD, we will give away two grand prizes:
1 FREE year-long membership at Dragonfly Hot Yoga
1 FREE year-long membership at Flyght Indoor Cycling

Go to www.madisonmagazine.com/bom and Vote for Dragonfly Hot Yoga (under Yoga) and Flyght Cycle (under Alternative Fitness Center). Please note: You can only vote ONCE. After you vote, email bestof@dragonflyhotyoga.com with subject line "I Voted" to be entered for a chance to win!
Fundraiser Events to Benefit Gio's Garden
If we win Best of Madison GOLD, Dragonfly and Flyght will donate an additional $1000!

Dragonfly Hot Yoga and Flyght hold charity fundraisers every year as part of our get out the vote campaign for Best of Madison. This year, we are offering 2 events, with 100% of the proceeds benefiting local non-profit: Gio's Garden. This organization aims to help nurture and strengthen families with children with special needs (birth through 6 years) by increasing their access to needed services.
3 hour Fitnessathon & Fundraiser • 11/17/19 • 2:00-5:00pm • Downtown Flyght & Dragonfly
3 Hour Yogathon and Fundraiser • 12/14/19 • 12:30-3:30pm • Middleton
Plus, if we win gold for both Dfly and Flyght, we will donate $1000 to Gio's Garden on top of what we raise at our donation events!