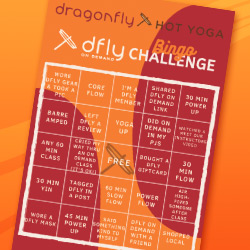 Get a Chance to Win
Dfly On Demand for 3 months
Dfly Bingo Challenge
October 19 – November 2, 2020
Attend class and other fun activities for a chance to win!
We are back with a new challenge you can do from home or with us at the studio! Dfly BINGO! Screenshot our Bingo card from our facebook or instagram posts, or download a bingo card here and get started October 19th! Take class online, in-person, or both, plus sprinkle in a few other Dfly activities to get 5 squares in a row to complete your bingo card. Once it's completed, email a photo or screenshot of it to info@dragonflyhotyoga.com. All finished entries will be entered into a drawing for free Dfly On Demand access for 3 months. Three lucky Dflyers will win!
BONUS! You can earn bonus entries for sharing the Dfly love! Share your bingo card in your Facebook or Instagram Stories and tag us! Please note, in order for us to see the share and credit you a bonus entry, you must have a public account or be followed by Dfly. If you don't have either of those, screenshot your Dfly Bingo Card Story and include it in your email to us! Want even MORE bonus entries? Get an additional TWO entries for tagging and "challenging" friends to join you! There's a spot to tag them on the bingo card. The more, the merrier!