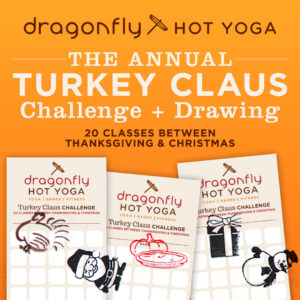 Get a Chance to Win A Dfly Retail item of your choice!
Complete 20 Classes between November 24 & December 25, 2022
It's Turkey Claus time again! This time of year is busy, and it can be easy to leave our self-care routines on the back burner. This year it is even more important to keep up a consistent yoga and fitness routine to keep your mind and body healthy. Enter the Turkey Claus Challenge – 20 classes between Thanksgiving and Christmas. Can you do it? Let's yoga!
To get started, grab a card at the front desk. After each class you attend between Nov. 24 and Dec. 25, get your card stamped with one of our holiday stamps!
To enter the drawing, hand in your completed card at the front desk before December 25, and we will hang it up in the studio! Everyone who completes the challenge and hands in their card will be entered into a drawing for a chance to win a Dragonfly retail item of your choice!