Keep Up Your Practice + Get Entered to Win a Year Long Membership!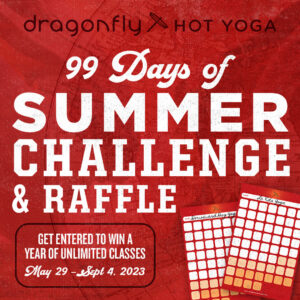 Challenge dates:
May 29 – September 4, 2023
The Challenge:
Attend 40 classes in 99 Days
Prize:
Exclusive Summer Challenge T-Shirt or Tank
Enter to Win:
All entrants (whether you complete the challenge or not) will be entered to win a free membership for a year!
It's summer time and the living is Dragonfly! Join us for our summer challenge to keep you motivated, inspired, and connected! We know summer can be the hardest time of year to keep up a yoga practice, thus the 99 Days of Summer Challenge was born!
This year is a little different than years past. There is only one challenge level (40 classes in 99 days), it costs $10 to join, and we are adding a raffle for a free year of classes! The $10 will get you an exclusive tank or tee (if you complete the challenge), and one entry into the raffle drawing (whether you complete the challenge or not!)
Are you with us? Let's yoga! It could be the most valuable gift you could ever give yourself.
Want to do the summer challenge but are usually a pass purchaser? Get our Summer Membership for unlimited classes during the 99 days of the challenge! :D
Register below through July 25, 2023:
1. Sign up online using the form below or email info@dragonflyhotyoga.com to sign up and pay your $10. Select your tee or tank and indicate your shirt size.
2. Pick up your card at the front desk.
3. Attend at least 40 classes between May 29 and September 4. Stamp your card after each class. You can do it!
4. If you complete your challenge, you will receive your tank or tee at the end of September.
5. All entrants will be entered to win a year of free classes whether you complete the challenge or not! :D