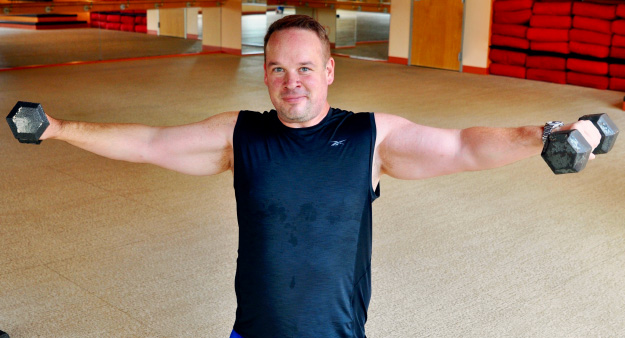 How did you get started at Dfly?
I was looking to increase my fitness level so I was trying a few different things. Running wasn't as enjoyable as it had been in the past and I couldn't get into a consistent routine in the gym. I went to a hot yoga class in Eau Claire one weekend where my friend teaches and really enjoyed it. A few days later I was back in Madison thinking I should find something like that here. I immediately thought of Dragonfly for a couple of reasons, one was the well known name the other was the locations and how they worked great for me. I scrolled the website and decided on taking a Power Up class, as it really described the total body workout I was looking for. It just so happened that one of my coworkers was also the instructor for that class, she has been very helpful and motivating since then.
What was your yoga and fitness experience before Dfly?
I had done a few classes other places and had done some youtube yoga during the pandemic as well. I was familiar with it but was not a regular.
What do you enjoy most from attending Dfly classes?
I really enjoy being motivated by the people around me who are all there for the same purpose. When I am thinking about how hard 10 more seconds of burpees will be in Power Up, I am motivated by everyone else to keep going. I also really enjoy that no class is ever the same and each instructor is a little different.
Have you experienced any changes in your total well-being since taking classes?
A few years back I had gotten injured during a training exercise, at the time I was a firefighter. I eventually had knee surgery but never felt like I was back to where I was before that from a stability standpoint. After 6 months of regular Dragonfly classes I can see a major difference in the terms of my stability/flexibility. I have also had some weight loss as well as muscle gain. It's been very rewarding to set fitness goals for myself that have been achieved in a much shorter time frame than I originally expected.
I have also started attending Aroma Yin on Sunday nights and have found that to be a great way to go into Monday mornings much more relaxed.
How often do you attend classes? Favorite class?
I have been steadily increasing the number of classes I attend a week. Currently I am going to about 6 classes a week. Friday afternoon Power Up in Middleton is my favorite.
Please feel free to share any other thoughts you have about Dfly, hot yoga, or your life as we would love to know more about you.
I am always so impressed by the people I see every week at different locations. Their dedication is really an inspiration. People who have hit 500 classes to the people that have been to 3,000 classes, that's something I strive to be like.
Instructor Kirstyn Nelson: "Since Ryan joined Dragonfly he has stayed dedicated, shows up ready to work hard each and every class. His commitment and dedication is commendable."