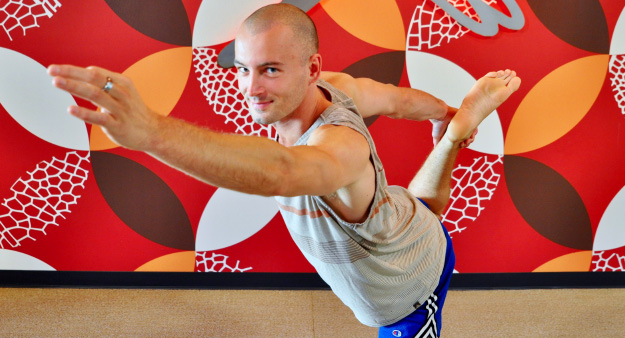 How did you get started at Dfly?
I started about a year ago while I was searching for ways to heal from a hip injury. Shoutout to my friend Conrad for pointing me in this direction.
What was your yoga and fitness experience before Dfly?
I practiced yoga once in a while but not with the attitude I have towards it now. Being more disciplined, humble and curious has led me to a deeper practice. Also, focusing on the breath to movement connection this time around has really helped.
What do you enjoy most from attending Dfly classes?
Most of all I enjoy the people. I'm thankful to have a place to strive to be better with others aiming in similar healthy directions.
Have you experienced any changes in your total well-being since taking classes?
There's no doubt. More good feelings and composure with bad ones. Also, I have a better balance between focusing on the process versus the outcome of things.
How often do you attend classes? Favorite class?
Ideally every morning I get to start with a class but life happens and usually it's 5 or 6 days a week with my favorite class being Sisley's flow.
Please feel free to share any other thoughts you have about Dfly, hot yoga, or your life as we would love to know more about you.
I like mushrooms, cold plunges, reading non-fiction, stand-up comedy, cooking… you're still reading this? How neat, I hope we meet.
Instructor Sisley M.: Ross' journey on his mat has been incredibly inspiring. His commitment to his practice is evident in the way he continues to challenge himself and share his passions. Ross has a wisdom that transcends his years, and his support and kindness within the studio are truly appreciated. I am proud to say that Ross is not only an exceptional yogi, but a wonderful friend.