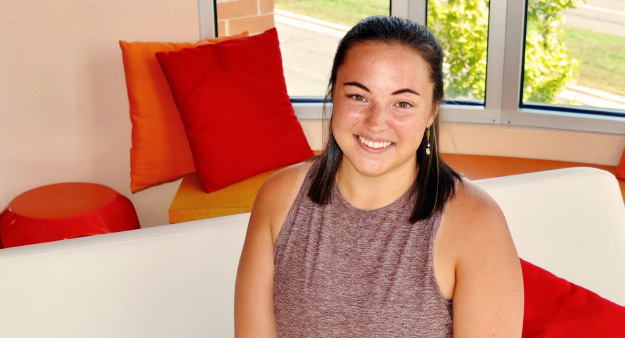 I had taken a couple Dfly classes while I was in college, but had fallen out of the habit of practicing regularly. I finally decided this past winter that I needed to bring yoga back into my life and decided to give Dfly a try again. The intro month offer at the time was just too good to pass up and I loved it so much that I transitioned straight into a regular membership!
My introduction to hot yoga came from my aunt – it became somewhat of a tradition for us the week after Christmas to seek out a good hot yoga class in Madison. It wasn't until late high school that I found a more frequent practice outside of my once a year holiday yoga.
I really love how welcoming the studio space is and I appreciate how much emphasis there is on giving yourself gratitude just for taking the time for yourself on your mat. It truly feels like a judgement free space to explore what yoga is and can continue to be for me.
I have felt a holistic improvement in my strength and wellbeing. My regular practice has helped me feel more grounded mentally and physically stronger (it was a really exciting day when I finally felt I had the strength to fully appreciate a chaturanga flow – ha!)
I try to practice at least 4 times a week. It's hard to pick a favorite class – I enjoy so many of the various flows and yins offered. But my favorite for most of this past year is a toss up between Carrie's chakra flow and Krista's slow flow. I always enjoy the unique sequences in Krista's class – many leg burning sequences that really test how solid and grounded you can be! And the shift in chakra focus week to week in Carrie's class allows for such a neat exploration in how shifting what physical/energy center you focus on can alter what you get out of a pose.
Instructor Carrie S.: "Emily always arrives at Dragonfly with a smile! She inspires others with her calming presence in the studio and the focus, strength and curiosity that she brings to her practice. She always listens to what her body and mind need. I am honored to part of her yoga practice!"