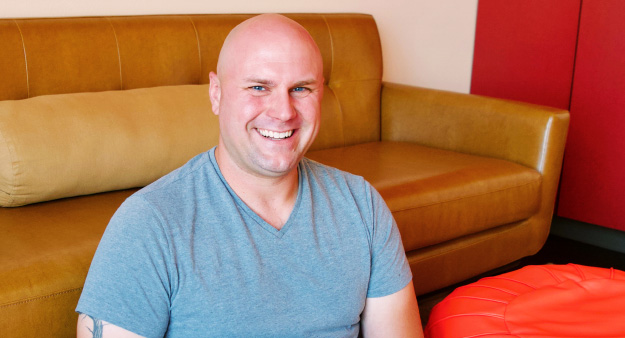 How did you get started at Dfly?
I started back in 2016 when my wife was attending classes and practiced regularly for a few years until COVID. I'm just now re-starting my practice and have been a regular member again for the past few months!
What was your yoga and fitness experience before Dfly?
Prior to Dfly, I had absolutely no yoga experience. I honestly thought it was just a way to stretch differently, but I'm really happy that I gave it a chance as it's done so much more for my physical, mental, and emotional health.
What do you enjoy most from attending Dfly classes?
I enjoy the time to settle down and care for myself in a relaxed and inviting environment.
Have you experienced any changes in your total well-being since taking classes?
I often use the classes to decompress from the stress of work and everyday life. I do feel more centered when I'm regularly attending, and I've experienced (again) an improvement in my overhealth physical health.
How often do you attend classes? Favorite class?
Due to my unusual work schedule, the classes I can make most frequently are the Tuesday and Thursday 5:30 classes with Kyle who is absolutely incredible and leads a really inviting class that is welcoming to folks at all levels.
Please feel free to share any other thoughts you have about Dfly, hot yoga, or your life as we would love to know more about you.
I'm really glad that I found Dfly and enjoy the welcoming environment to practice. I'm excited to hopefully participate in more classes throughout the week to further deepen my practice and continue to work on my well-being.
Instructor Kyle A.: "It is great to see Adam in class each morning! His kind nature, dedication to his practice, and quiet determination are inspiring to myself and those around him. Thank you Adam for being such an awesome part of the Dragonfly community and the early morning crew."