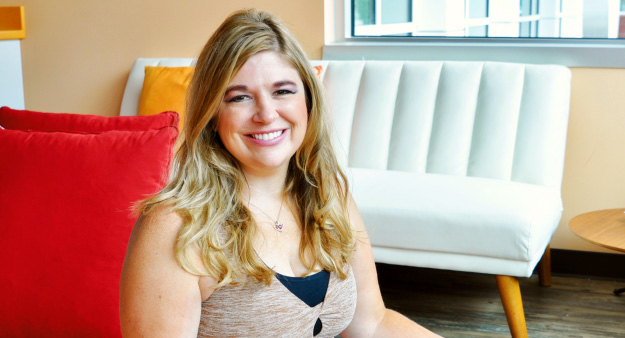 How did you get started at Dfly?
I have taken classes over the last several years as drop in or 10 class pass purchases. In late fall 2022, I took the plunge with a new member monthly special, loved it and then committed to a monthly membership the following month! I took some yoga classes at another gym I belonged to, they did not offer any hot yoga. Yoga classes were limitedly available, not their focus. I was somewhat intimated to look elsewhere as I was a newbie to regular yoga practice. So happy to have found D-Fly! I enjoy the love & care that attending class gives to my body, my mind and the positive thoughts/affirmations teachers provide during class to take with me beyond class.
Have you experienced any changes in your total well-being since taking classes?
Yes!! I have extreme neck issues from years of office work (I am on the phone and at a computer for 10+ years as a Bank Manager), before joining Dragonfly, I had daily headaches systemic from neck issues, even with regular chiropractic care, my body, my neck and my head ache daily- level 6-9 pain that had a very negative impact on my daily life. I am elated to report, being a regular at Dragonfly, I no longer have chronic headaches nor nearly the neck issues I had!!!
How often do you attend classes? Favorite class?
I try to attend class 2-3 times a week, I belong to a high intensity work out gym as well, I love to give my body the balance. Krista B's Thursday night slow flow 60 min. class, her classes are amazing, always something new, always challenge me and she always supports and encourages/demonstrates modifications- incorporates various yoga supports, like blocks and yoga straps. She is always smiling!!! She also welcomes questions after class and will take time to demonstrate poses individually. I also love Fran's Sunday Aroma Yin & the Aroma Yin 60 classes. Who doesn't love deep stretching and relaxation with sweet smells!
Please feel free to share any other thoughts you have about Dfly, hot yoga, or your life as we would love to know more about you.
I love that everyone from the friendly reception desk to the coaches make everyone feel welcomed, and they know me and greet me by name! All sizes, shapes and fitness levels. I love that Dragonfly encourages Yoga for every "Body". Additionally, the variety of classes available and the range of class times, the ease and convenience to book classes in the app! I work late on the opposite side of Madison, so I appreciate later night classes! I also love the fun workshops. Shawn's Yogi Toes are so awesome and excited for the Pride Fundraiser!
A bit about me: I have a spunky sassy, sweet potato red chihuahua named Winnie. She loves people- she is a sweetheart ❤ My favorite form of exercise is dancing! I speak some Spanish, and love to travel. I went to France in May (first international trip aside from Mexico and Canada!) it was tres magnifique! I am planning my next international trip for January- Costa Rica, excited to see all the animals and rainforest. I have Texas and Madison roots and have lived in Georgia as well. I enjoy spicy food, and ice cream can be with every meal, mint chip is my favorite flavor. I was Captain of my Cheer Squad in high school at Madison West for 2 years- cheered all 4 years, I enjoy smiling and making those close to me feel special- I strive to be my loved ones #1 Fan.

Instructor Krista Balgeman: "Leslie is a joy to have in class every week. Her positive, can-do attitude is inspiring. She is a genuine and kind person and I'm so grateful she's part of the Dragonfly community."