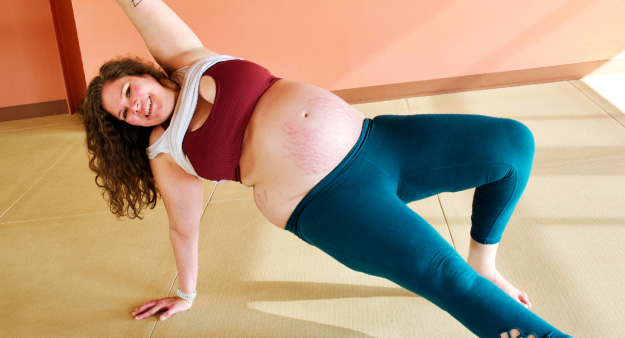 How did you get started at Dfly?
I moved to Madison last summer from Philadelphia. There I had really enjoyed my hot yoga community, and I missed it here! I started with the trial month, experienced a variety of classes in Middleton and Fitchburg, and ended up enjoying them so much I signed up for the yearly membership.
What was your yoga and barre experience before Dfly?
About 4 years of hot yoga 3-5 times/week!
What do you enjoy most from attending Dfly classes?
I love the community you can build with your instructors and fellow students when you see each other in the same classes.
Have you experienced any changes in your total well-being since taking classes?
About a month into my year long membership, I found out I was pregnant for the first time. Prenatal classes and Aroma Yin in the Mild rooms have made this time so peaceful and I can tell a difference in the way my body feels the weeks I diligently attend class versus the weeks I don't.
How often do you attend classes? Favorite class?
Usually 3 times a week–it's a tie between Prenatal with Bridget and Aroma Yin with Julia!
Please feel free to share any other thoughts you have about Dfly, hot yoga, or your life as we would love to know more about you.
Dragonfly felt immediately welcoming and that was something I really needed as I didn't know many people when I moved here. My instructors are always available to chat before and after class and I haven't had a bad experience with anyone–the vibes are good at Dragonfly! I would love more Mild room options to take advantage of during pregnancy, but it is kind of perfect at the moment as I try to juggle my fun & peaceful yoga time with organizing our new home, getting ready for baby, work, and trying to have some semblance of a social life. If yoga has taught me anything, it's that its all about balance!
Instructor Marti Lindstrom: "Delaney is so positive, friendly and welcoming in our prenatal classes. She has a strong yoga practice and I admire her ability to change and adapt with her changing body."