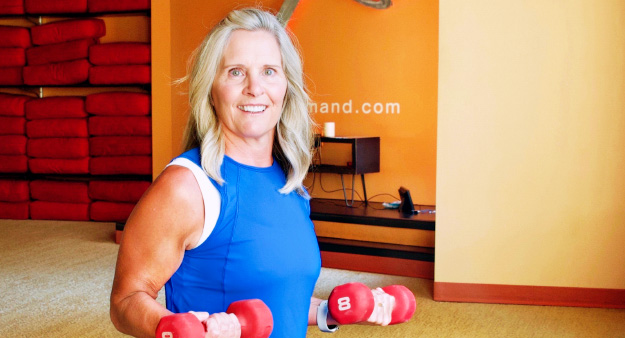 My husband and I moved to Madison after both teaching and coaching Up North for 33 years. My daughter, Marlee, brought me to my first class at Dfly. We attended a Slow Flow class. At first, I was unsure about attending a fitness studio.
My previous workouts included biking, running and weightlifting all on my own. I set a goal to sign up for 30 days and try a different class each time. After 30 days I was hooked on working out at Dfly. I now like to workout 5-6 times a week.
Location is ideal, being just 5 minutes from my home. I like the variety of classes offered at various times so I can be available for my granddaughters. My favorite classes include both Flow and Power Flow, Cardio Barre, Yoga Up and Power Up. Mixing it up keeps me energized and limits soreness.
Since joining Dfly I have lost weight, improved my flexibility, strength, balance and mental wellness. However, what I truly enjoy from Dfly is the positive energy and friendliness shown by all —from the front desk staff to the instructors to everyone working out.
Instructor Lindsey Loeffler: "Marge brings a smile to my face every time she walks into the studio. She works hard and pushes those around her, but is also their biggest cheerleader. I have the pleasure of seeing her kick butt in Cardio Barre, but I know she brings her strength (and smile) to every single Dfly class she takes."