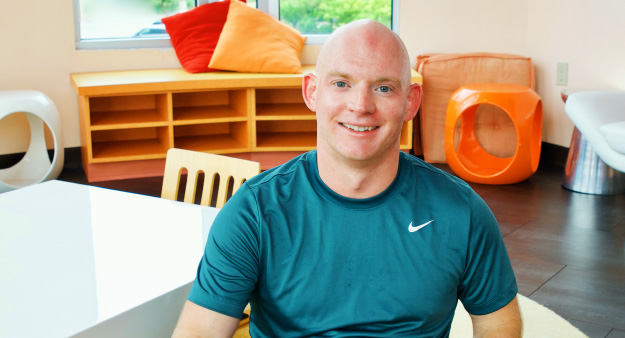 How did you get started at Dfly?
I was enjoying practicing yoga at home when I received a Dragonfly advertisement in the mail. After a couple of classes, I decided to sign up for the summer membership during 2022 and challenged myself to take 40 classes in 99 days. I ended up taking 47 classes during the summer, and in my first year as a member, I took over 200 classes at Dragonfly.
What was your yoga/barre experience before Dfly?
I began core-focused yoga workouts at home after injuring my back while golfing in 2019. During the pandemic in 2020, I started running to be active and enjoy the outdoors. I found myself trying different stretches to keep my legs feeling fresh. In late 2020, Apple released Fitness+ workouts, one of which was yoga. I thought I would give it a try to balance my running, as I knew I enjoyed the core-focused yoga workouts I was still doing. I started with 10-minute flows and progressed to 45 minutes. I continue to practice at home when I can't make it to the Dragonfly studio.
What do you enjoy most about attending Dfly classes?
The variety of classes and teachers at Dragonfly has helped me expand my practice. Hearing different cues during a flow or mantras being shared is a benefit to taking live in-person classes. Sharing the experience with other yogis within the Dragonfly community adds to the enjoyment.
Have you experienced any changes in your overall well-being since taking classes?
Yes, initially I began yoga to help strengthen my core and back to be able to play golf pain-free. I continue to practice yoga because of the overall wellness benefits I have experienced from my time on the mat. Showing up and taking time for myself to practice focusing on purpose, intention, honesty, kindness, patience, positivity, and gratitude during yoga allows those attributes to be more present in my daily life.
How often do you attend classes? What is your favorite class?
The number of classes I take depends on the week. There are weeks when I am at Dragonfly every day. My main classes that I have been participating in are Aroma Yin with Fran, Aroma Slow Flow with Mari, Flow with Kay, Core Flow with Anna, and Flow with Suki. I have enjoyed all the classes I have participated in at Dragonfly. There is always something to take with me at the end of class. Suki's classes would be my favorite, as the morning classes propel me to a great day.
Please feel free to share any other thoughts you have about Dfly, hot yoga, or your life as we would love to know more about you.
I really enjoy the Dragonfly community and meeting new people. If you see me around the studio, say hi!
Instructor Suki Warda: "Isaac has evolved into the practice of Yoga with stealth, strength and dedication from day 1. He shows up and exudes focus, deep listening and openness. It has been a joy for me to see his consistent and steady growth from the inside out! Congratulations Isaac! Keep on growing!"