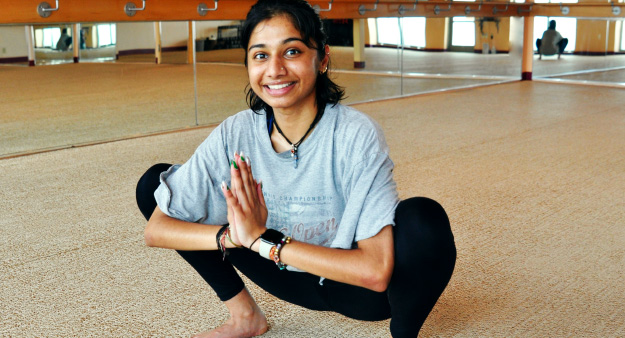 How did you get started at Dfly?
I got a two week pass and got hooked ever since.
What was your yoga experience before Dfly?
I've done some yoga classes here and there but nothing like Dragonfly!
What do you enjoy most from attending Dfly classes?
The instructors, the people, the community!
Have you experienced any changes in your total well-being since taking classes?
Yoga has been a huge tool in my life! Other than getting movement in my day, yoga has grown my curiosity in life, and taught me how powerful breathe can be even when you aren't exercising! As I attend classes, I feel like I'm not only learning about the poses, but also my lens of how I look at life.
How often do you attend classes? Favorite type of class?
I try to attend at least one class every day. I really enjoy Flow classes, but recently I've also been growing my love for Yin as well :)
Instructor Brittany H: "It is SUCH a pleasure every time Nethra is in class. Nethra embodies the concept of 'take what you need' and 'listen to your body' in yoga and it is inspiring. It's something that all of us, including instructors, can learn from. Nethra has a genuine and naturally kind spirit that DFly is super fortunate to have!"