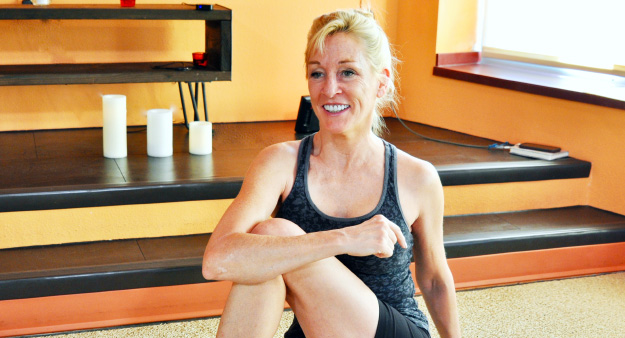 How did you get started at Dfly? What is/was your yoga/barre experience before Dfly?
I discovered Dragonfly during the pandemic. I had never practiced hot yoga before. Yoga, yes… but not hot yoga. Being introduced to hot yoga while wearing a face mask was "interesting", but I never looked back. I had been practicing yoga and barre for years at a local health club. A club that offered all types of activities, yoga being just one of them. Many club members saw yoga as simply a cross-training opportunity vs a mind/body practice. I was in search of something more focused on true yoga practice.
What do you enjoy most from attending Dfly classes?
I love the welcoming, inclusive community Dragonfly offers. All the instructors are passionate and knowledgeable. Modifications are always offered to make practice accessible to everyone.
The huge variety of classes throughout the day and evening offer something for everyone, inclusive of ability and age. Love the mind/body connection and focus encouraged by Dragonfly instructors and classes.
Have you experienced any changes in your total well-being since taking classes?
Yes! Aside from being physically more sound, I find myself more grounded in my everyday life. More balanced, both figuratively and literally. More connected to and aware of the world around me. I attribute my sense of elevated gratitude and grace to the Dragonfly community.
How often do you attend classes? Favorite type of class?
I visit Dragonfly several times a week. With a very busy but flexible schedule, I am able to sneak away during the day at times. I have enjoyed many types of classes, from Power Flow to Yin to Barre. Love them all, for the very different focus they each offer.
Please feel free to share any other thoughts you have about Dfly, hot yoga, or your life as we would love to know more about you.
I have visited all Dragonfly studios. Looking forward to the new Verona studio opening. I will be a Dragonfly fan for years to come! When people ask what I do for fun I always share my Dragonfly experience, health benefits and welcoming community. Thank You for offering such a special space to practice!
Instructor Marc Milone: "Upon first interaction with Val, you can tell has deep knowledge and commitment to the yogic teachings. She has been a regular in my 11am Power Flow class on Sundays in Middleton for several months, sometimes bringing friends or colleagues. If she comes alone, she often introduces herself to the person on the mat next to her. Dragonfly would not be the welcoming, inclusive place it is without Val. She is consistent, dedicated, grounded, kind, and willing to help others. Her bright energy on and off of the mat speak volumes to her of yoga and creating a life of vitality! Val is a light."