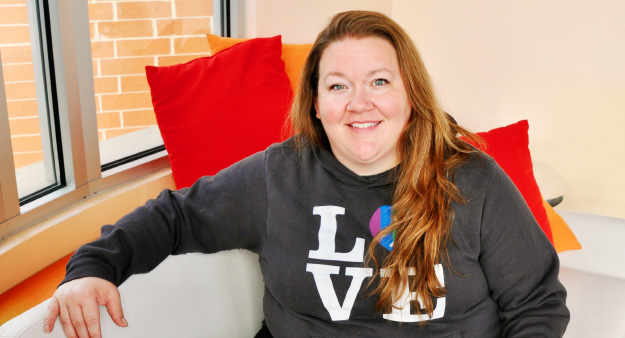 How did you get started at Dfly?/ What was your yoga/barreamped experience before Dfly?
My best friend Ashley and I went to lunch one day in January and we were talking about workouts. My dog Rockne had passed unexpectedly in October and his absence created a void in my daily routine – we used to walk at least 3 miles per day and spent many hours walking around dog parks and playing outside. I had been struggling to find the motivation to get back into working out and she suggested that I attend a class with her to try it out. I signed up for a class the next week, we went and the rest is history :)
Essentially zero previous yoga experience! I had heard of hot yoga but didn't know if it was for me. I'd done a few at home yoga workouts as part of other programs but never really stuck.
What do you enjoy most from attending Dfly classes?
Dragonfly has given me the balance that I have been searching for / didn't know that I needed. I have a relatively stressful job working in pharmaceutical research but work from home and would often find myself working 12-14 hours every day. Having these classes each day has encouraged me to maintain a work/life balance, step out of the house and move even on days that I felt like I didn't have the energy. Once I walk through the door I'm able to shut my mind off to the noise and focus on myself. Giving me the break that I need every day.
Have you experienced any changes in your total well-being since taking classes?
Aside from the positive physical effects, I believe that attending classes has done wonders for my mental health. Post pandemic spending days on end in the house has had an effect on me just like so many other people. Dfly has pushed me to stay consistent and bring me out of my comfort zone. I feel "lighter" in a sense and really enjoy the breaks in my day when I get to step away and drive to class. My anxiety feels manageable with the addition of Dfly in my daily life. Work/life balance is something that I have struggled with my entire life – Dfly is that break I need and I truly look forward to each class I take.
How often do you attend classes? Favorite class?
I started with a goal of attending 2 classes per week, then it jumped to 3 as we found more that we liked and now we are averaging 7! I really enjoy Power Up & Circuit Up and have recently started adding slow flow and yin classes to the rotation as I get more into yoga. Shawn & Carrie M are super motivating and push me to do better each class whether they know it or not. Kirstyn's Friday power up class is always a good one! Carrie S's slow flow and yin round out my week! Every teacher I've had has been welcoming and encouraging – I really can't pick a favorite! I love that every class is different and you never really know what you are going to get. It makes it feel new every time and not monotonous.
Please feel free to share any other thoughts you have about Dfly, hot yoga, or your life as we would love to know more about you.
I am so thankful for Ashley encouraging me to try this out because it really has changed my life. When I'm not here, I'm spending time with my friends & family. Preparing for my only son Bryce to graduate high school in a few months & planning a big trip to celebrate! We love road trips, new restaurants, board games and breweries.
Instructor Carre Miller: "I admire Ashley's dedication and consistency, including consistency practicing in the same spot in the hot room! Since the first time Ashley started attending PowerUp on Tuesday, I now look forward to seeing her each week. I'm really grateful to have her part of the dfly family. We are so lucky to have her."